Kawai DG30 digitale vleugel EP zwart hoogglans
Product is :

Nieuw

Levertijd :

Binnenkort verwacht

Leverings kosten :

Dit product wordt gratis bezorgd

Garantie termijn :

5 Jaar

Staat in de Showroom? :

Nee
Kawai DG30 digitale vleugel EP zwart hoogglans
De DG30 is een nieuwe digitale vleugel van Kawai die met een diepte van slechts 87 cm in bijna ieder interieur geplaatst kan worden. Technisch is de DG30 gebaseerd op de digitale piano Kawai CN39. De combinatie van een zeer goed toucher, een prachtige dynamische klank door de Onkyo versterking in een compact design maken dit model een unieke digitale vleugel.
Een moderne digitale piano die een grote indruk achterlaat - dit is het gedurfde concept achter de nieuwe DG30. Dit opvallende instrument combineert Kawai's authentieke digitale pianotoetsenbord en geluidstechnologieën en combineert ze met een eigentijdse vleugelpiano-achtige kast, afgewerkt in luxueus ebbenhout gepolijst. Als een mooi meubelstuk zal de DG30 zeker het interieur van bijna elke kamer aanvullen, terwijl zijn compacte formaat en vorm ervoor zorgen dat dit indrukwekkende instrument minder ruimte inneemt dan zelfs de kleinste babyvleugels.
Responsive Hammer III (RHIII) action with Let-Off 88 weighted keys with Ivory Touch key surfaces
Progressive Harmonic Imaging sound technology with Shigeru Kawai grand piano sounds and 88-key stereo sampling
Over 350 authentic sounds, including acoustic pianos, electric pianos, organs, strings, bass etc.
Audio technologies developed in partnership with Onkyo, 40W speaker system
Bluetooth MIDI and Audio functionality with aptX support for wireless communication and audio playback
Built-in Burgmüller, Czerny, Beyer etudes and Alfred lesson songs
Standard MIDI, USB to Host/Device, Audio In/Out connectivity
Cheekblock control panel with high quality OLED display
Attractive, compact grand piano cabinet design, Ebony Polish finish, 2-position topboard
Support for Virtual Technician and Sound Museum apps
Normale prijs: € 4.969,00
Dera prijs : € 4.680,00
Product Omschrijving
Details
The DG30 digital grand piano captures the magnificent tone of Kawai's flagship Shigeru Kawai SK-EX full concert grand piano. Widely regarded as the "premier pianos of Japan", Shigeru Kawai instruments grace the stages of concert halls and musical institutions throughout the world, and are prized for their exceptional tonal clarity. In addition, the DG30 also features the distinctive sound of Kawai's highly acclaimed EX concert grand piano, which has frequently been selected by professional pianists in such prestigious events as the Chopin, Tchaikovsky, and Rubinstein international piano competitions, among others.
Both instruments have been carefully recorded, meticulously analysed, and faithfully reproduced with full 88-key sampling using Harmonic Imaging™ sound technology. This unique process accurately recreates the broad dynamic range of the original grand pianos, affording pianists an extraordinary level of expressiveness ranging from the softest pianissimo to the strongest, boldest fortissimo.
The new class-leading Responsive Hammer III keyboard action on the DG30 re-creates the exceptional touch of an acoustic grand piano with its realistic movement and rigid "springless" design working together to provide a smooth, natural piano playing experience. A triple-sensor key detection system enhances responsiveness and accuracy. Learn More »
The DG30 features a premium speaker and audio system developed by audio equipment specialist Onkyo delivering improved tonal clarity and superior sound. Lower-range frequencies are delivered through the underside of the instrument, while mid and high frequencies are projected outward via top-mounted speakers, closely mirroring the sound projection characteristics of an acoustic piano.
The DG30 can record and play digital audio files using a USB memory device, in either MP3 or WAV formats. Record your live playing or Internal Recorder songs, or play along with your favorite recording artist. Transfer your MP3 to a computer for emailing to family and friends.
In addition to standard USB and MIDI jacks for connecting to computers or other instruments, the DG30 also features integrated Bluetooth® MIDI and Audio technologies that allow the instrument to communicate with supported smart devices wirelessly.
Once paired with a phone, tablet, or laptop, DG30 owners can enjoy a wide variety of exciting music-related apps that enhance their learning and playing experience, or stream audio from songs and videos directly through the instrument's premium amplifier and speaker systems without the need to connect additional cables.
The recorder on the DG30 allows up to three songs to be stored in internal memory and played back at the touch of a button. This functionality is expanded with 2-track recording that allows left and right-hand parts (or two different voices) to be recorded separately. Players can play back the left-hand part while practicing the right-hand part live—or vice versa—to strengthen hand independence.
The DG30's convenient lesson function allows aspiring pianists to learn piano with classical Czerny, Chopin, Burgmüller, Beyer, Bach, and Beethoven etudes, or a collection of songs from the popular Alfred's Basic, Adult, and Premier course books.
With a strong emphasis on acoustic piano realism, the DG30 also features traditional finger exercises, scales, and warm-up drills, and includes companion books for all classical scores to further aid one's piano development. Learn More »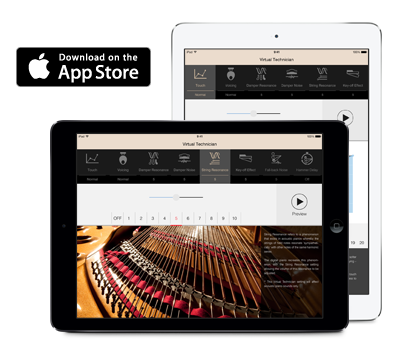 An experienced piano technician is essential to fully realize the potential of a fine acoustic piano. In addition to meticulously tuning each note, the technician also performs numerous regulation and voicing adjustments that allow the instrument to truly sing.
The DG30's Smart Mode Virtual Technician simulates these refinements digitally, with ten preset configurations that adjust various characteristics of the grand piano sound to match different musical styles.
The DG30 features three pedals – soft, sostenuto, and damper (with half-damper capability). The new Grand Feel Pedal System accurately replicates the position and individual weighting of the damper, soft, and sostenuto pedals of a Shigeru Kawai SK-EX concert grand piano to further enhance the DG30's acoustic piano-like authenticity.
Aanvullende Informatie
Aanvullende Informatie
Technische Informatie

Keyboard
・ Responsive Hammer III action
 - 88 keys
 - Grade-weighted hammers
 - Ivory Touch white key surfaces
 - Let-off simulation
 - Triple sensor key detection
 - Counterweights
Pedal
・ Grand Feel Pedal System
 - Damper (with half-pedal support)
 - Soft
 - Sostenuto
Piano Sound
・ Progressive Harmonic Imaging (PHI)
 - 88-key stereo sampling
 - SK-EX, SK-5, EX recording
 - 256 note maximum polyphony
Piano Resonance
・ Acoustic Rendering
 - Damper Resonance
 - String Resonance
 - Undamped String Resonance
 - Cabinet Resonance

Piano Adjustment

・Virtual Technician (19 parameters)
 - Touch Curve (incl. User Touch Curve)
 - Voicing (incl. 88-key User Voicing)
 - Damper Resonance
 - Damper Noise
 - String Resonance
 - Undamped String Resonance
 - Cabinet Resonance
 - Key-off Effect
 - Fall-back Noise
 - Hammer Delay
 - Topboard Simulation
 - Decay Time
 - Minimum Touch
 - Stretch Tuning (incl. 88-key User Tuning)
 - Temperament (incl. User Temperament)
 - Temperament Key
 - Key Volume (incl. 88-key User Key Volume)
 - Half-Pedal Adjust
 - Soft Pedal Depth

・Virtual Technician Smart Mode (10 presets)
No. of Sounds
355 voices (incl. 9 drum kits), GM2 compatible
Reverb
6 types
Brilliance
✔
Other Effects
24 types
Speakers
13 cm x 2 (woofer)
10 x 2 (top speaker)
Output Power
40 W (20 W x 2)
Headphone Enhancements
Spatial Headphone Sound
Headphone Type
Display
128 x 64 pixel OLED
Key Cover
Sliding type
Music Rest
Collapsible type (3 angle adjustability)
Dimensions
Width
147.5 cm (58")
Depth
87 cm (34 1/4")
Height
89 cm (35") [music rest flat]
104 cm (41") [music rest raised]
136.5 cm (53 3/4") [topboard full open]
Weight
80 kg (176 lbs.)
Available Finishes
Ebony Polish (DG30EP)
Basic Functions
Dual
Split
Four Hands
Transpose
Tuning
Registration
Startup Setting
Internal Songs
Sound Demo
32 songs
Piano Music
29/42 songs *
Concert Magic
176 songs
Lesson Songs
Burgmüller 25 (25 Etudes Faciles, Opus 100)
Czerny 30 (Etudes de Mécanisme, Opus 849)
Czerny 100 (Hundert Übungsstücke, Opus 139)
Beyer 106 (Vorschule im Klavierspiel, Opus 101)
J.S. Bach: Inventionen
Sonatinen Album 1
Chopin Walzer (Chopin waltzes series 1-19)
Alfred's Premier Piano Course Lesson 1A
Alfred's Premier Piano Course Lesson 1B
Alfred's Basic Piano Library Lesson Book Level 1A
Alfred's Basic Piano Library Lesson Book Level 1B
Alfred's Basic Adult Piano Course Lesson Book Level 1
Internal Recorder
Total Memory
approximately 90,000 notes
No. of Songs
10 songs
Parts
2 part
Metronome
Time Signatures
1/4, 2/4, 3/4, 4/4, 5/4, 3/8, 6/8, 7/8, 9/8, 12/8
Drum Rhythms
100 patterns
Bluetooth *
Bluetooth (Ver. 4.1; GATT compatible)
Bluetooth Low Energy MIDI Specification compliant
Bluetooth Audio with aptX support
USB Audio Recorder
Record/Playback
MP3
WAV
SMF (16 track recording)
Other Functions
Overdubbing
Re-record SMF
App Functions
Virtual Technician app (iPad), Sound Museum app (iPhone/iPad)
Connector Jacks
Headphone
1 x 1/4", 1 x 1/8" Stereo jacks
MIDI
MIDI IN, MIDI OUT, Bluetooth MIDI *
Line Out
1/4" L/MONO, R [unbalanced]
Line In
1/4" L/MONO, R [unbalanced]
USB to Host
✔
USB to Device
✔
Others
-
Power Consumption
20 W
Power
Power cable
AC adaptor (PS-154)
Headphones
Headphone hook
Sheet Music
Classical Piano Collection *
Classical Lesson Scores *
Finger Exercises
Others
Warranty Card *
Owner's Manual
Internal Song Lists

Garantie
5 Jaar
Bezorgkosten
Dit product wordt gratis bezorgd
Bezorgtijd
Binnenkort verwacht
Staat in showroom
Nee
Merk
Kawai
Instrument is:
Nieuw
Maandaanbieding
Nee
Bezorg-, Tranport-, Info- aanvraag
U kunt het onderstaande formulier gebruiken, om vragen te stellen over dit product.
U krijgt zo snel mogelijk bericht.